AAdvantage® Aviator® Mastercard®
AAdvantage® Aviator® Mastercard®
Earn AAdvantage® miles on your purchases with no annual fee
Earn AAdvantage® miles on your purchases with no annual fee
Explore exclusive cardmember benefits and more below
Explore exclusive cardmember benefits and more below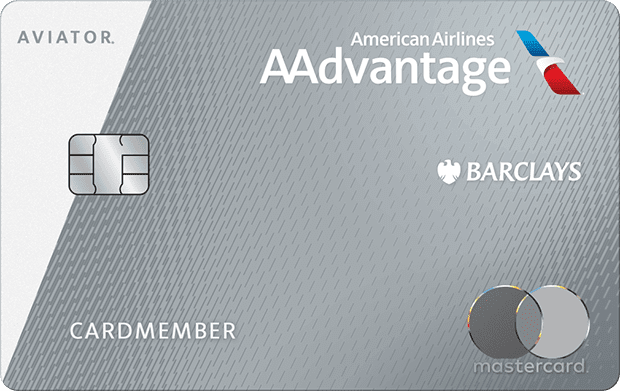 Explore the benefits of your AAdvantage® Aviator® Mastercard®¹
Explore the benefits of your AAdvantage® Aviator® Mastercard®¹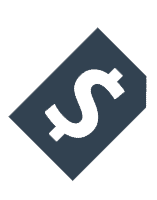 $0 Fraud Liability protection means that if your card is lost or stolen, you're not responsible for any charges that you did not authorize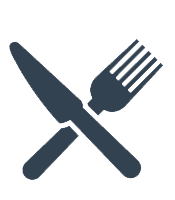 Receive 25% savings on inflight food and beverage purchases on American Airlines operated flights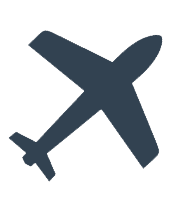 Earn 1 mile for every one dollar spent on eligible American Airlines purchases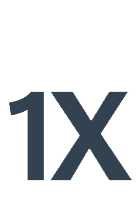 Earn 1 mile for every two dollars spent on all other purchases
As an AAdvantage® Aviator® Mastercard® cardmember, you have access to programs that offer even more ways to earn miles while using your AAdvantage® Aviator® Mastercard®
As an AAdvantage® Aviator® Mastercard® cardmember, you have access to programs that offer even more ways to earn miles while using your AAdvantage® Aviator® Mastercard® credit card
SimplyMiles™


Join and earn miles faster on purchases by activating offers and shopping your favorite brands in store and online
eShopping


Sign up and shop at 950+ online stores and earn miles on every dollar you spend in addition to those earned with your credit card
American Airlines Vacations


10% discount on eligible American Airlines vacations when you book through www.aavacations.com/aviator
More ways to earn and redeem your AAdvantage® miles
Get a 10% discount on a Dream Vacation
Did you know you get a 10% discount every time you book an American Airlines Vacations package, just for being an AAdvantage® Aviator® Mastercard® card member? Conveniently book all elements of your vacation together, including:
Air
Hotel
Rental car
Ground transfers and activities
Use this dedicated link to benefit from the 10% discount
Explore Priceless Experiences
Did you know your American Airlines AAdvantage® Aviator® Mastercard® can help you enjoy the excitement of travel from the comfort of your living room? With exclusive experiences and Priceless Surprises®, you can virtually explore future vacation spots around the world.
Earn more miles with SimplyMiles™
Introducing SimplyMiles™ — a new way to earn American Airlines AAdvantage® miles faster on every dollar you spend, with personalized offers from your favorite brands.
Simply join and register your AAdvantage® Aviator® Mastercard® and shop at your favorite stores. It's easy to get started:
Join SimplyMiles™
Add your AAdvantage® Aviator® Mastercard®
Activate offers, shop and earn miles
The more you shop, the more you earn for flights, upgrades, vacations and more.
Hungry for AAdvantage® miles?
Earn miles for dining- Get carry out or order delivery from a participating AAdvantage Dining℠ restaurant and earn up to 5 miles per $1 spent on your meal.
Just use your AAdvantage® Aviator® Mastercard® when you pay.
Book now. Save later.
Ready to travel wherever your imagination might take you? Receive $50 off your next ticket when you register and book a flight with your Mastercard® on aa.com by September 30th. Open to existing Mastercard cardholders who are AAdvantage Members, U.S. res 18+. Ends 9/30, or while supplies last. Terms and Conditions: mastercard.us/aaoffer.
Compare our AAdvantage® Aviator® credit cards
AAdvantage® Aviator® credit cards
AAdvantage® Aviator®
Silver Mastercard®
 

AAdvantage® Aviator®
Red Mastercard®
 

AAdvantage® Aviator®
Blue Mastercard®
 

AAdvantage® Aviator®
Mastercard®
 

AAdvantage® Aviator®
World Elite
Business Mastercard®
AAdvantage® Aviator® Silver Mastercard®

AAdvantage® Aviator® Red Mastercard®

AAdvantage® Aviator® Blue Mastercard®

AAdvantage® Aviator® Mastercard®

AAdvantage® Aviator® World Elite Business Mastercard®
Select up to three cards above to compare their great benefits
Compare our AAdvantage® Aviator® credit cards
AAdvantage® Aviator®
Silver Mastercard®
 

AAdvantage® Aviator®
Red Mastercard®
 

AAdvantage® Aviator®
Blue Mastercard®
 

AAdvantage® Aviator®
Mastercard®
 

AAdvantage® Aviator®
World Elite
Business Mastercard®
Annual fees

| Cards | Silver card | Red card | Blue card | Aviator card | Business card |
| --- | --- | --- | --- | --- | --- |
| Annual fee | $199 annual fee | $99 annual fee | $49 annual fee | no annual fee | $95 annual fee |
Mileage benefits

| Cards | Silver card | Red card | Blue card | Aviator card | Business card |
| --- | --- | --- | --- | --- | --- |
| Miles on eligible American Airlines purchases | 3x | 2x | 2x | 1x | 2x |
| Miles on eligible hotel purchases | 2x | | | | |
| Miles on eligible car rental purchases | 2x | | | | 2x |
| Miles on select telecom purchases | | | | | 2x |
| Miles on select office supply purchases | | | | | 2x |
| Miles on all other purchases | 1x | 1x | 1x | .5x | 1x |
| Earn Elite Qualifying Dollars (EQDs) | ✔ | | | | ✔ |
| Earn Elite Qualifying Miles (EQMs) | ✔ | | | | |
| Get miles with Flight Cents | ✔ | ✔ | | | |
| Earn 5% AAdvantage mileage bonus | | | | | ✔ |
| No limit to the number of miles you can earn | ✔ | ✔ | ✔ | ✔ | ✔ |
Travel benefits

| Cards | Silver card | Red card | Blue card | Aviator card | Business card |
| --- | --- | --- | --- | --- | --- |
| Receive 25% savings on inflight food & beverage purchases | | ✔ | ✔ | ✔ | ✔ |
| Up to $25 back per day on inflight food & beverage purchases | ✔ | | | | |
| Up to $25 back on inflight Wi-Fi purchases each anniversary year | | ✔ | | | |
| Up to $50 back on inflight Wi-Fi purchases each anniversary year | ✔ | | | | |
| Earn a Companion Certificate | ✔ | ✔ | | | ✔ |
| First eligible checked bag | ✔ | ✔ | | | ✔ |
| Preferred boarding | ✔ | ✔ | | | ✔ |
| $100 Global Entry application fee credit | ✔ | | | | |
| No foreign transaction fees | ✔ | ✔ | ✔ | | ✔ |
| $0 Fraud Liability protection | ✔ | ✔ | ✔ | ✔ | ✔ |
| Premium Services | ✔ | | | | |
Compare our AAdvantage® Aviator® credit cards
Change your credit card selection ►
AAdvantage® Aviator®
Silver Mastercard®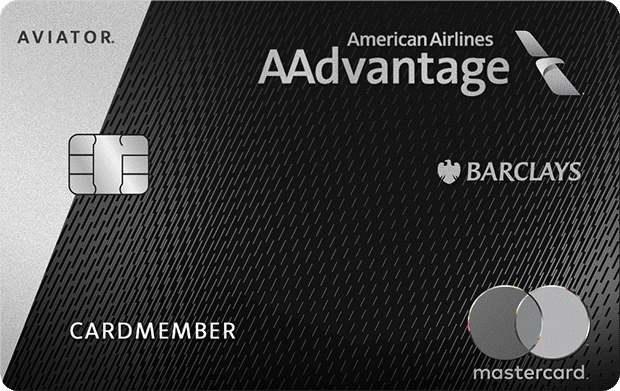 AAdvantage® Aviator®
Red Mastercard®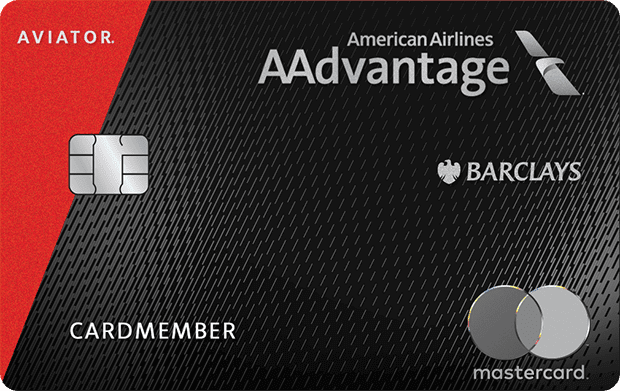 AAdvantage® Aviator®
Blue Mastercard®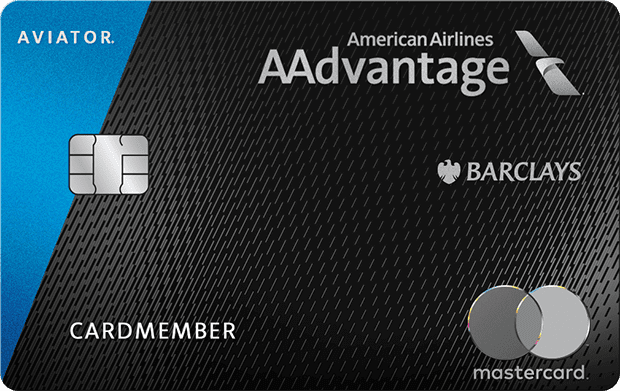 AAdvantage® Aviator®
Mastercard®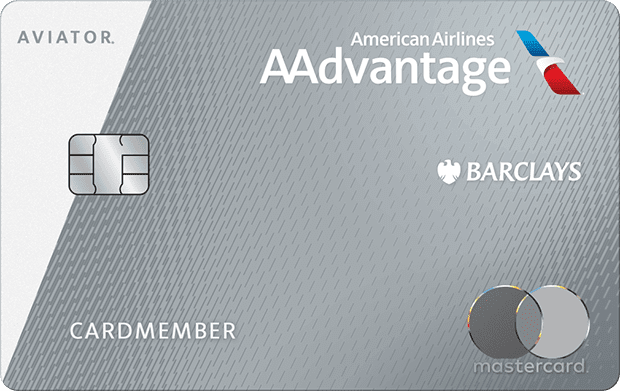 AAdvantage® Aviator® World Elite Business Mastercard®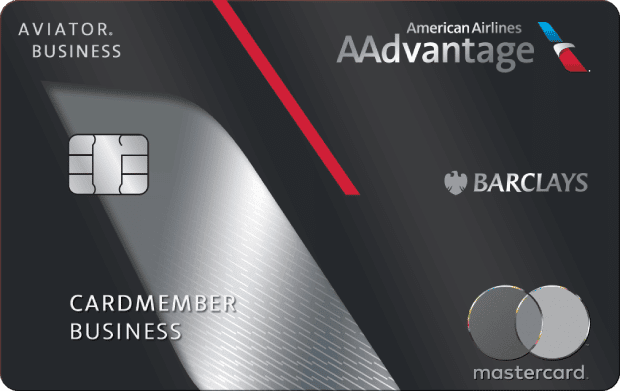 ANNUAL FEE
$199 annual fee
$99 annual fee
$49 annual fee
No annual fee
$95 annual fee
MILEAGE
BENEFITS
Miles on eligible American Airlines purchases
Miles on eligible hotel purchases
Miles on eligible car rental purchases
Miles on select telecom purchases
Miles on select office supply purchases
Miles on all other purchases
Earn Elite Qualifying Dollars (EQDs)
Earn Elite Qualifying Miles (EQMs)
Get miles with Flight Cents
Earn 5% AAdvantage mileage bonus
No limit to the number of miles you can earn

3x

2x

2x

1x

✔

✔

✔

✔

2x

1x

✔

✔

2x

1x

✔

1x

.5x

✔

2x

2x

2x

2x

1x

✔

✔

✔
TRAVEL
BENEFITS
Receive 25% savings on inflight food & beverage purchases
Up to $25 back per day on inflight food & beverage purchases
Up to $25 back on inflight Wi-Fi purchases each anniversary year
Up to $50 back on inflight Wi-Fi purchases each anniversary year
Earn a Companion Certificate
First eligible checked bag
Preferred boarding
$100 Global Entry application fee credit
No foreign transaction fees
$0 Fraud Liability protection
Premium Services
 

✔

 

✔

✔

✔

✔

✔

✔

✔

✔

✔

 

✔

 

✔

✔

✔

 

✔

✔

 

✔

 
 
 
 
 
 
 

✔

✔

 

✔

 
 
 
 
 
 
 
 

✔

 

✔

 
 
 

✔

✔

✔

 

✔

✔

 

[wpdatatable id=4 var1='citi-platinum-card-american-airlines-direct']